Suggested settings for updates in Lacerte when using Intuit Hosting
Lacerte is updated by Right Networks at night. Changing one of the following settings will help avoid accidentally trying to update.
What should I do if I get a Lacerte Updates Notification?
If you receive a Lacerte Updates Notification prompting you to update, check Don't notify me again, then select Cancel.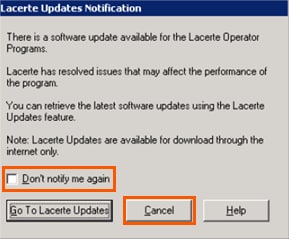 What can I do if I tried to update?
If there was no update available, you won't have any issues. If there was an update, you'll be stopped from being able to complete updating Lacerte with the Lacerte Setup error:
"The current user, #, is not within the administrators group. Only users with administrator equivalent may install Lacerte programs. Please login as an administrator and restart Setup. Click OK to exit."
Right Networks will update Lacerte at night. If you are having an issue working due to your attempt to update, call to speak with a Lacerte Intuit Hosting expert. They'll be able to make changes so Lacerte no longer sees that this update is available. See How to contact Lacert for help for contact information.