How does Right Networks determine who to initially set up as the ProSeries Admin?
The first user that has the ProSeries app installed for a year is set up as the ProSeries Admin.
I was ProSeries Admin, but now I'm not. What happened?
When the ProSeries Admin's ProSeries app gets uninstalled then installed again, the new install sets you up as a workstation because only the initial install of ProSeries for the account is set up as the ProSeries Admin.
The ProSeries Customer Information licensing screen's Customer Number and 'SOLD TO' Zip Code fields are blank and grayed out advising "Please see your ProSeries Network administrator to change."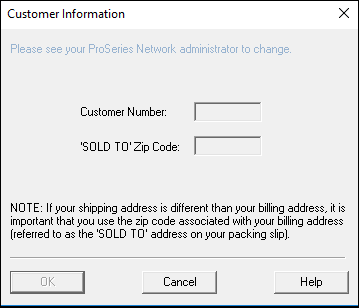 Only the ProSeries Admin can enter this information. If you should be the ProSeries Admin, see the instructions below to resolve this issue.
Correcting the ProSeries Admin
This article uses YY to reference the tax year in 20YY format.
To correct your Right Networks login to being the ProSeries Admin, follow the steps below.
Close ProSeries.
Open File Explorer in the hosted environment.
Select This PC on the left column, then browse to H:\ProWinYY\32bit.
Double click on the ProWinYY.ini file and open it with Notepad.
From the Edit menu select Find.
Type admin in the Find what field, then select Find Next.
Change the line that says Admin=0 to Admin=1.

From the File menu select Save.
Close Notepad and File Explorer.
Open ProSeries again.