This article explains how to resolve the following error that appears when opening Lacerte:
"DoBeforeInitialize: Exception = Error loading Firm file manager."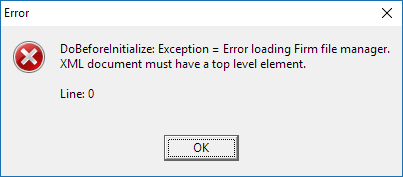 The error is caused by anti-virus programs deleting the contents of the firm's file in the option folder.
Exclusions need to be set in the anti-virus program for each of the following paths.
Workstation paths:
The Lacerte folder where each of the programs are installed (default is C:Lacerte)
C:Program Files (x86)Common FilesIntuit Shared
C:Program Files (x86)Common FilesLacerte Shared
If in a network environment, these additional exclusions need to be set as well:
The Lacerte folder/folders on the mapped drive that stores the data and the options. (Example L:Lacerte where L: is the drive used for Lacerte on the network.)
The UNC path to the Lacerte share, if known.
On the server itself, the Lacerte folder/folders that store the data and the options.
Follow these steps to get into the program.
Browse to the Option Path directory.

For stand-alone installs, the default is C:Lacerte??taxOption??
For network installs, the ??taxOption?? folder will be on your shared/mapped drive. (?? = tax year)

Rename the Firms.w? by adding -OLD to the end.
Open the program.
How to restore missing information
Click on the Settings menu, then select Transfer Prior Year Settings.
In the pop-up transfer window, put a check in the third item, Firm Information.
Verify the path listed and click OK.
In the Information window stating options already exist, click Yes to transfer settings.
If any information has changed from the prior year, you can edit Firm Information by going into options and then click on the Firm Info tab.