Sometimes you may receive the following Windows: Server Busy error when the program is completing other tasks that utilize connections to other programs (including Internet Explorer):
"Server Busy. This action cannot be completed because the other program is busy. Choose 'Switch To' to activate the busy program and correct the problem."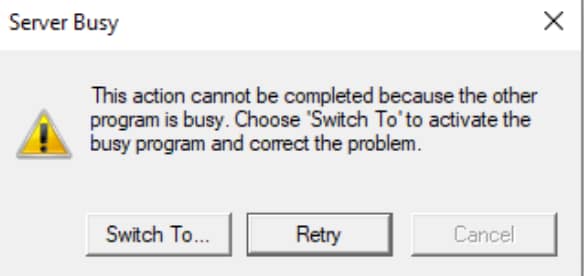 Why is this error generating?
This message occurs when a background process or application prevents ProSeries products from performing the requested task.
You're most likely to encounter this error when:
Signing into the program
Creating a tax return
Viewing version details
E-filing
Importing from other software
How do I resolve this error?
Common troubleshooting may help resolve this error. You should:
Restart the computer to free up any locked processes.
Close any programs you are not currently using.
Configure installed programs to update when you're not actively using your computer.
Close all unused background processes.
Have your local IT professional look at Selective Startup or Safe Mode to determine what's interfering with the program calls.
Sign out of Windows and sign in again.
Have your local IT professional determine if the error is caused by a damaged Windows user profile.
Unplug any USB devices plugged into the computer.
Run antivirus and malware scans.
Run Windows updates to make sure your operating system is up to date.