Go to Screen 59, Amended Return (1040X) before making any changes to the return
In the section Return(s) to Amend, click the drop-down arrow next to field Federal/state return(s) to amend (Ctrl +T) (MANDATORY). This list will contain states added in Screen 1, Client Information.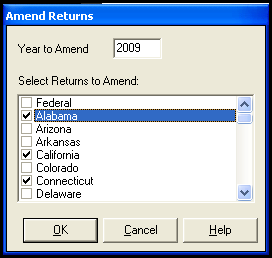 Next the program will show a pop up letting you know the date and time the program will display your originally reported amounts.

At this time the program will automatically bring over original amounts from the return into the As Originally Reported column for the various states. You can review the amounts imported by clicking on the state under the Amended box on the left panel.
Note: Some states may not have a specific form for an amended return and a corrected main form should be filed. Review the state's form instructions for more details.
Once this has been completed you may go back to the desired detail screens to make the changes required.
Note: Make sure the F4 status of the return is not marked as Return Complete. The amounts will not auto-populate in this instance.
Press the F4 key on your keyboard and click on the Client Status tab.
Make sure the Return Complete box is not checked.