Follow these steps to enter a multi-state W-2:
Go to the Input Return tab.
On the left-hand navigation menu, select Income.
Click on the Wages, Salaries, Tips (W-2) screen.
Enter the Employer Information.
Scroll down to the Wages section.
Click inside of the field labeled (1) Wages, tips, etc. (Click on button to expand if multi-state).
Select the

+

button to the right of the field to open a supporting detail window.

In this window, enter the income Amount for each state, and select the appropriate State abbreviation from the drop-down menu.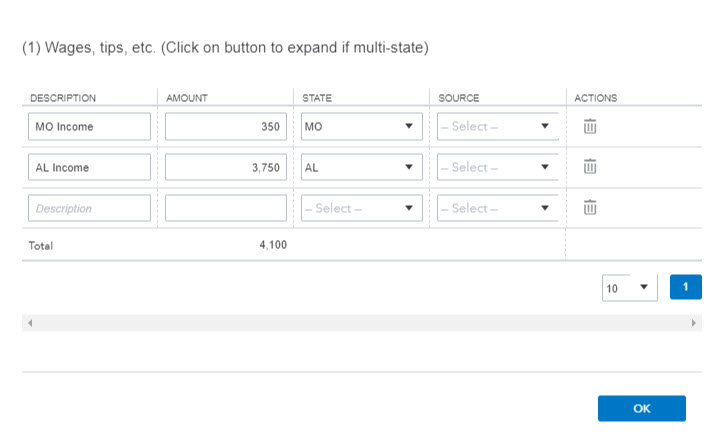 In the example shown above, the total of the state wages, $4,100, is equal to the federal wages. The Form 1040 will reflect $4,100.
Note: If there is a situation where the total multi-state wage amounts do not equal the federal wages, the Source column may be used.
Select S in the Source column to send an amount only to that state's return, without affecting the federal return or any other states.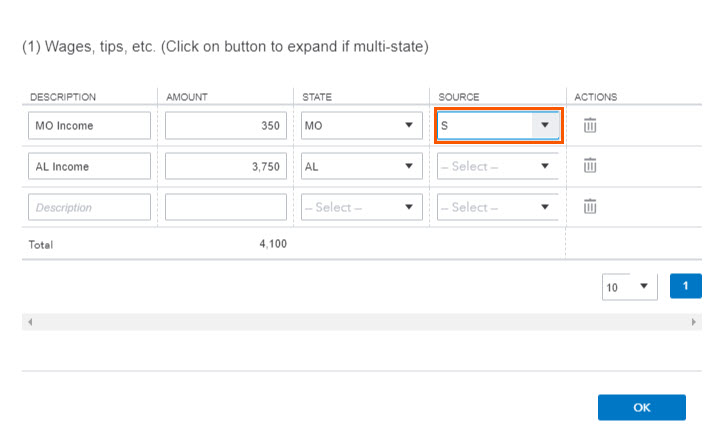 In the example shown above, wages of $3,750 will flow to the federal and Alabama returns. The Missouri return will report $350 of income.

To report state withholding, scroll down to the State and Local section, and click inside the field (17) State income tax withheld. Repeat steps 7 and 8, above.
Related Topics: