Before you start:
Go to the Profile tab to add states to the return.
On the Input Return tab, check the Multi-State Return? box to activate multi-state input.
Follow these steps to enter multi-state amounts:
Click inside of any input field.
If that field allows multi-state amounts, a plus sign (+) will appear.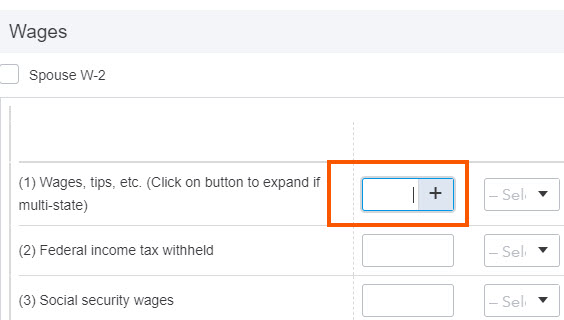 Click on the plus sign (+) to open the multi-state input box.
Enter the Amount for each state.
In the State column, choose the state abbreviation.

Note: For states with no income tax, like Texas, choose US.

The Source column should typically be left blank. See Using the Source column and understanding the meaning of S and N for details.

Related Topics
Using the Source column and understanding the meaning of S and N
How to enter part-year or nonresident states
Entering W-2 wages and withholdings on multi-state returns
Sourcing Income for a Multi-State Passthrough K-1
Allocating Income or expense items to Different States Without Utilizing the Allocate Multi-State Amounts