See what's new for tax year 2021
We're working hard to help you do even more for your clients.
Spotlight



Assign and manage staff work
Assign staff members client returns, then re-assign each return as it changes hands within your firm until it's complete.
Filter by assigned staff members, in the Tax Hub, to monitor return status and team workloads.
Help your staff stay focused with personalized views of their assignments.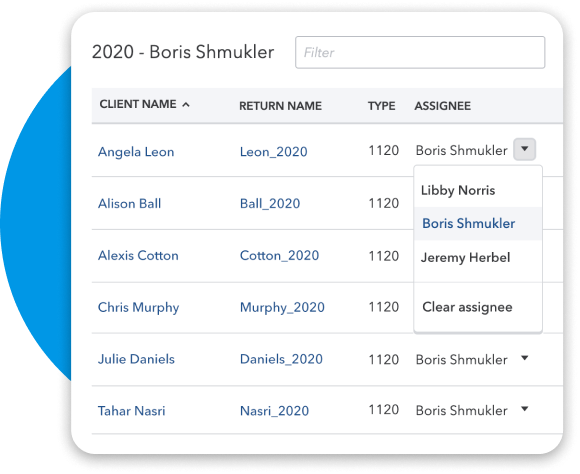 Most requested



View e-file status for all return types
Easily drill down to the status of each part of the return at the federal and state level including extended and amended returns so you can focus on what's important.
View statuses of e-filed federal and state tax returns, extensions, and amended returns with easy color identifiers for rejected and accepted returns.
Click the status in each column to get further explanation of what was rejected as well as transmission confirmation letters.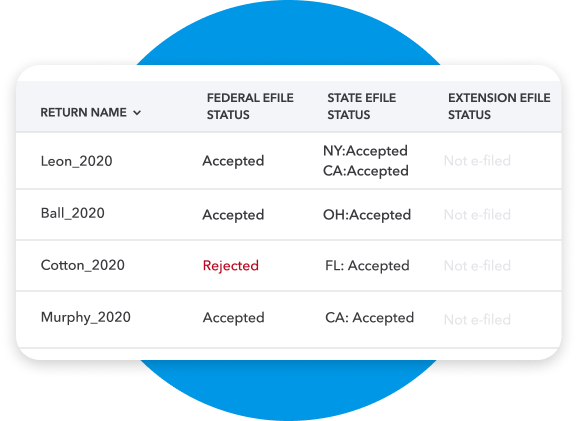 Most requested



Direct Data Import
Drag and drop client tax documents from your computer directly into their return. No manual data entry or Link request required.
Directly import popular tax forms like W-2, 1099-DIV, 1099-G, 1099-INT, 1099-Misc, 1099-R, 1098s, and more.
Keep all your imports organized in the new data import drawer, not just client source documents. There's a place for Schedule D, Depreciation, and K-1 imports too.
Look for the lightning icon, conveniently located inside your client's return, or the data import drawer.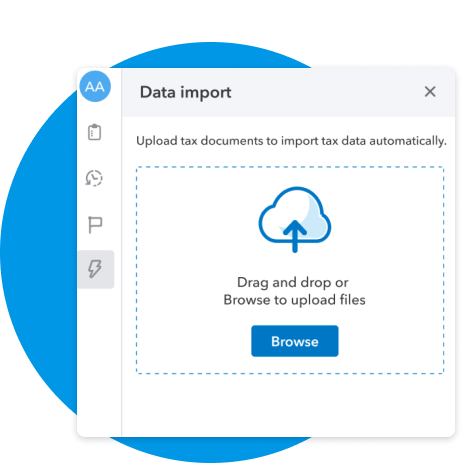 Here's what we're working on!
We're excited to bring you some of the most requested features for tax year 2021.
Lock returns
Auto-lock e-filed returns to prevent manual entry errors and calculation updates that may alter the original e-filed amounts.
Detect users working on the same return
Get a full view of any users working on the same tax return. This can keep work moving without creating version conflicts or overwriting previous versions of the return.
31 additional e-filing types
Plus two new forms for print and e-filing for tax year 2021.
Creating the future of taxes one tax year at a time!
Take a look at our tax year 2020 progress.
Automate your way into the future with these new useful tools introduced in tax year 2020.
Batch process client tax organizer requests
Send tax organizer requests in batches to multiple clients all at once.
Create customized organizer templates by client types — 1040 clients, 1120S clients, or any sub-segment of clients you choose, such as clients who work in a particular industry or clients who claim rental income. Then, send the tax organizer in batches all at once.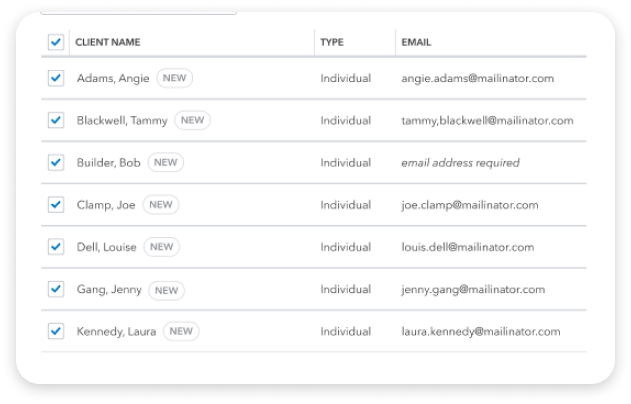 Import data from client documents directly into their return with no manual data entry required.
View all importable documents in one organized place within the data import drawer located conveniently inside your client's return.
The data import drawer is organized by import types, not just client source documents, so there's a place for Schedule D, Depreciation, and K-1 Imports, in addition to popular client tax forms like W-2, 1099-DIV, 1099-G, 1099-INT, 1099-Misc, 1099-R, 1098-T and 1098.
In the data import drawer you can import, download, delete, ignore, or click the document name to view it in a new tab.
A new lightning bolt icon lets you know when new client documents are ready to be imported.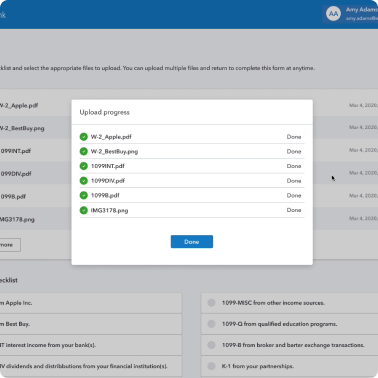 Speed up your review time by flagging missing data prior to filing.
Flag input fields when you're missing data or have questions for clients, so you can easily see what's still pending prior to a final review and e-filing.
View and track all flagged input fields in one place inside your client's return within the flagged items drawer.
Track flagged items by those still open and those that have been resolved so you know when a return is ready to be reviewed and filed.
Easily jump to the input field by clicking the field name in the flagged items drawer.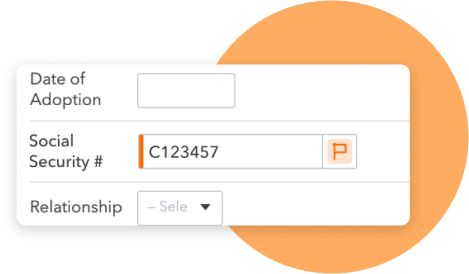 We've made tax time easier for your clients, too. Now they can:
Upload their tax documents all at once and our system will automatically identify the tax form type. When new documents are ready for import, the indicator icon will let you know.
Connect securely to each of their financial institutions, without having to share their password with you. When new tax documents are released by the institution, they will automatically appear in your document import drawer, ready for review and import.
Sign in to Link using their phone number with a single-use password generated by Intuit if they forget their Link log-in information.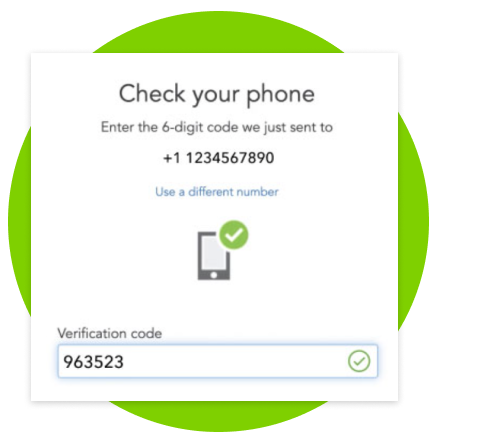 New e-file capabilities: Boosting your efficiency
Manage K-1 forms easily
Now, pass-through business entities have an easy way to produce letters, K-1 forms, K-1 state forms, and more for each partner or shareholder. Easily generate PDFs from the File Return screen and send them out.
E-file amended returns
The 1040X e-file is now live in ProConnect. We now transfer originally filed ProConnect data to amended returns to help save you time. We also make a copy of the original return for your records.
Enter data more efficiently
Save time entering data by making simple input field calculations. We are also updating standardized formats of dates for consistency.
Enhanced EFIN verification and security
A new tool will enable new customers to verify their information and current customers to update their information.
Get more from imports
To help you work more efficiently, CSV or Excel import features extend functionality to include depreciation and pass-through entity members, and Schedule D dispositions.
Masking
Now ProConnect can mask Social Security numbers for you when you print forms or create PDFs.
Introducing manual entry forms
Manual entry forms are fillable PDF forms within ProConnect Tax that allow you to complete specific forms not supported by ProConnect Tax.
Watermarking
Minimize confusion by adding a watermark that reads "Do not file" to distinguish what's for review or storage and what's for filing.
Take control of e-file permissions
You decide who can e-file returns in your firm with master admin, full-access admin, and basic user permissions.
Training: Keeping you up to date
Free live and pre-recorded webinars
Attend live and pre-recorded webinars on the topics that matter most to you, at times that work best with your schedule. More than 30,000 pros signed up for webinars last year, and new sessions like tax law, ethics, and product courses are continually added.
COVID-19 resources
Quickly find the latest information you and your clients need on our newly redesigned COVID-19 resource center.