Intuit Accountants just released the first-annual 2022 Taxpayer Insights & Intelligence Brief. 
Available Now



Prior Year Worksheets
Organize worksheets with the prior year's data for clients to remind them what they provided the previous year and reduce the amount of time it takes to process their return this year. Find this feature in the Batch Actions Menu. Learn More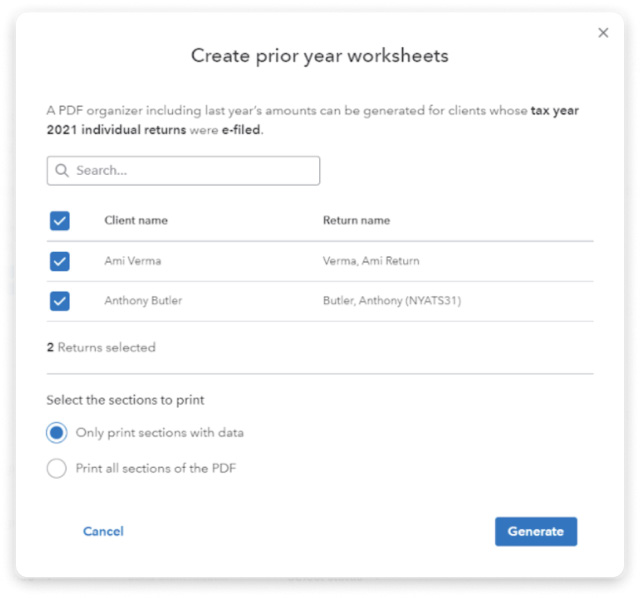 Available Now



Tax return reports
Export client data from 60+ standard tax return fields into an easy to configure CSV report. Available for 1040, 1120S, 1065 and 990 tax returns. Learn more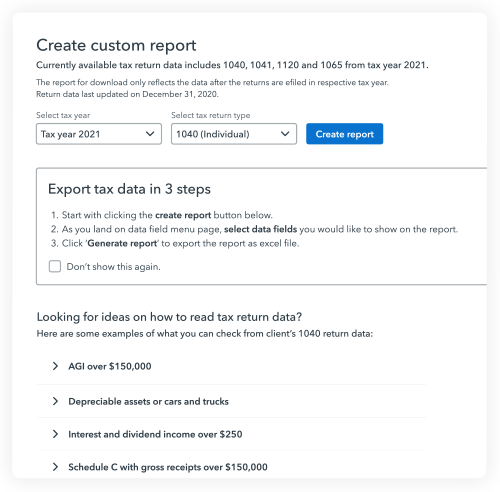 Available Now



Customized print settings
Generate PDF documents of returns to best meet the needs of your clients. Optimize which documents to include, rearrange the order and standardize print settings by copy types -- client, preparer or government copy. You can even create a custom watermark and mask personal information like SSNs. Learn more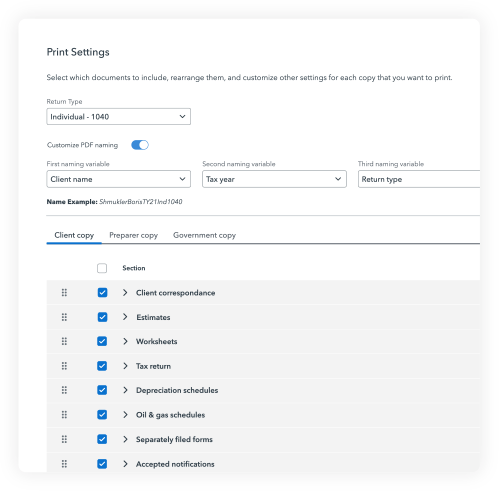 Available Now



QuickBooks Billing Integration
Create QuickBooks Online invoices from ProConnect Tax with your tax client's billing details auto-populated, streamlining client invoicing, payment collection and tracking accounts receivables. No separate login or accounts required.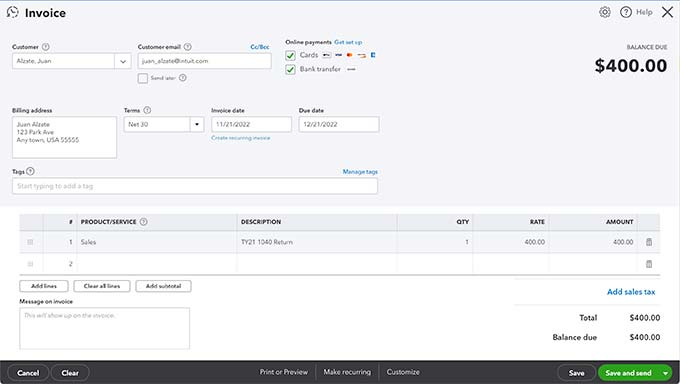 Available now



Married Filing Jointly v. Married Filing Separately
Avoid manual entry time and opportunity for error when you automatically split a married-filed-joint return by generating two married-filing single returns when there's a tax benefit for your clients.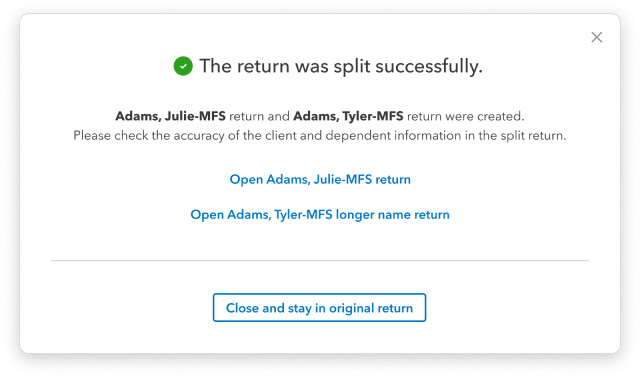 Available now



Multi-LLC e-filing
If your client has multiple small businesses, each with its own LLC, file state returns all at once, instead of one by one, saving you significant time in the process.
Learn more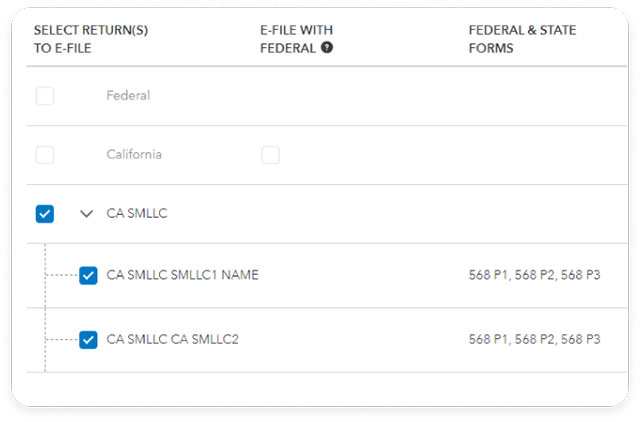 Available Now for Intuit Link

Google Drive integration  

Intuit Link
Connect your Google Drive account to ProConnect to import client tax forms directly to a tax return.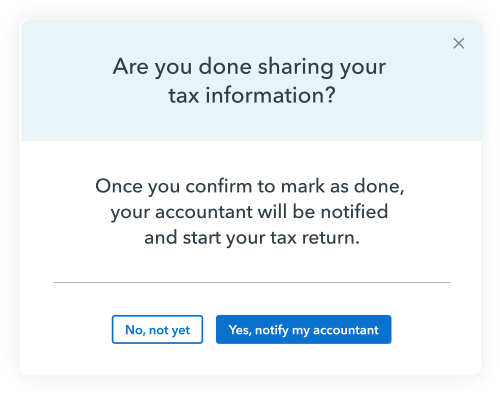 Mark as done  

Intuit Link
Clients can now tell you when they're done providing information and documents via Link so you don't have to waste time wondering when to get started on their return. You'll receive a notification and also have the ability to mark the client activity done yourself in the return actions.
Coming soon



Customized Client Letters
Create and send templated letters with preset and customized tax return data fields, firm logo and signatures to clients.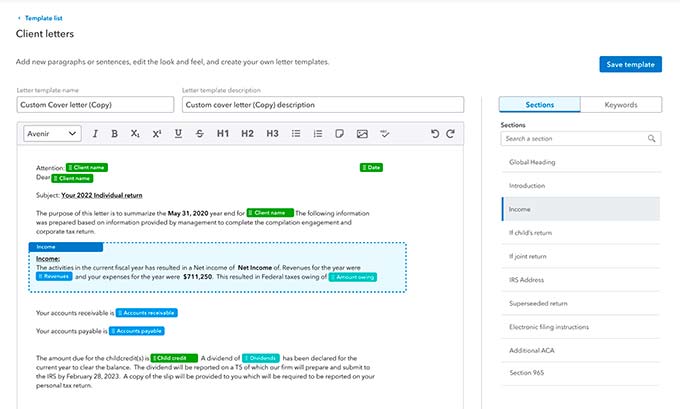 Creating the future of taxes one tax year at a time!
Take a look at our progress.
Here are some of the new tools designed to provide a better experience for you and your clients.
Product releases
We're working hard to help you do even more for your clients.
View all client documents
View and manage all documents, internal to the firm and shared with the client, in one place.
eSignature authorization options
View a summary of information before submitting an efile, including a list of the federal and state returns, payment method, and the refund amount or balance due.
eFile summary
View a summary of information before submitting an efile, including a list of the federal and state returns, payment method, and the refund amount or balance due.
New notifications inbox
Stay informed of important news and product updates pertinent to you, sent directly to your new notifications inbox within ProConnect Tax.
Rejected return credit
When a return is rejected due to an incorrect SSN or EIN, the return will automatically unlock and an error code will generate a credit.
Jump to Input
Navigate client tax returns faster by easily moving from tax form fields to input screen in one click on more fields than ever.
View a summary of sources and values for fields with multiple inputs.
eSignature 1-click
Now you can request eSignature with just one click!
Go digital with eSignature and give yourself and your clients the better way to collect and submit signatures in record time.
Over 70% of eSignature requests are completed in one day*
* In tax year 2019, 71% of completed eSignature transactions through Intuit professional tax products were finalized in less than 24 hours)
Lock return
Auto-locked e-filed returns prevent manual entry errors and calculation updates that may alter the original e-filed amounts.
Returns are automatically locked after e-filing, so a copy of the e-filed version is always available for reference.
Return data can still be viewed in read-only mode when a return is locked, but inputs cannot be edited.
Easily unlock returns and transfer original data to an amended return.
Available for any completed e-filed tax return across all modules.
Direct Data Import
Drag and drop client tax documents from your computer directly into their return. No manual data entry or Link request required.
Directly import popular tax forms like W-2, 1099-DIV, 1099-G, 1099-INT, 1099-Misc, 1099-R, 1098s, and more.
Keep all your imports organized in the new data import drawer, not just client source documents. There's a place for Schedule D, Depreciation, and K-1 imports too.
Look for the lightning icon, conveniently located inside your client's return, or the data import drawer.
Assign and manage staff work
Assign staff members client returns, then re-assign each return as it changes hands within your firm until it's complete.
Filter by assigned staff members, in the Tax Hub, to monitor return status and team workloads.
Help your staff stay focused with personalized views of their assignments.
Multiple preparer awareness
Get a full view of any users working on the same tax return. This can keep work moving without creating version conflicts or overwriting previous versions of the return.
The person(s) icon will appear at the top of the input return screens when another member of your firm joins. Hovering over the icon will reveal the member's name.
If a version conflict occurs, you will be given the choice to save your changes, overwrite the previous version, or load the latest version.
View e-file status for all return types
Easily drill down to the status of each part of the return at the federal and state levels, including extended and amended returns, so you can focus on what's important.
Click the status in each column to get further explanation of what was rejected as well as transmission confirmation letters.
Smart navigation
ProConnect Tax intelligently predicts tax forms frequently used next based on common workflow patterns.
New suggestions are updated each time you navigate to a new input screen, keeping you at peak performance.
As new workflow patterns are added, suggestions will become smarter and more personalized.
Only available for non-proforma individual (Form 1040) returns at this time.
Training: Keeping you up to date
Free live and pre-recorded webinars
Attend live and pre-recorded webinars on the topics that matter most to you, at times that work best with your schedule. More than 30,000 pros signed up for webinars last year, and new sessions like tax law, ethics, and product courses are continually added.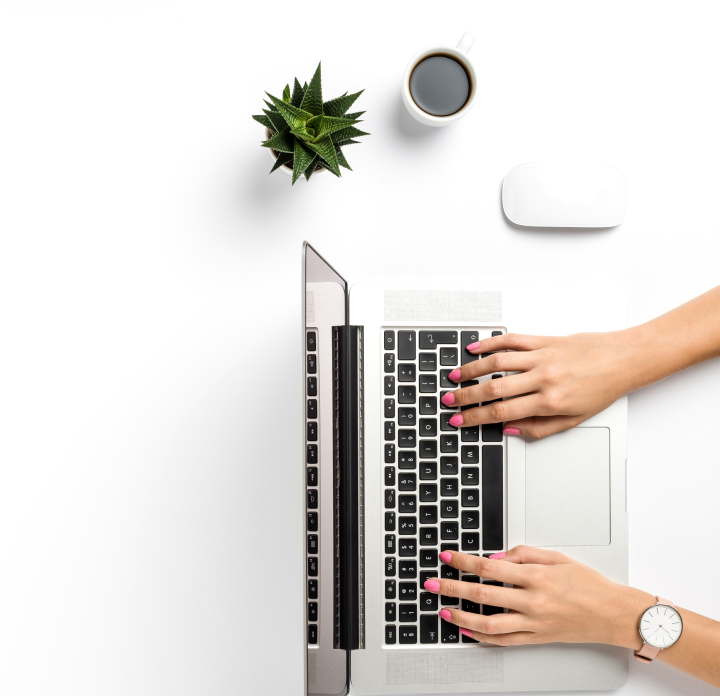 *Intuit Tax Advisor information is intended to outline general product direction but represents no obligation and should not be relied on in making a purchasing decision. Additional terms, conditions, fees, and eligibility criteria apply. Graphics/imagery are for illustration only. You will need to log in to the product to see actual numbers, and any impact is speculative and not guaranteed. Product offers, features, and functionality are subject to change without notice.