After starting ProSeries Basic, the following warning generates about opening a directory while searching for user data: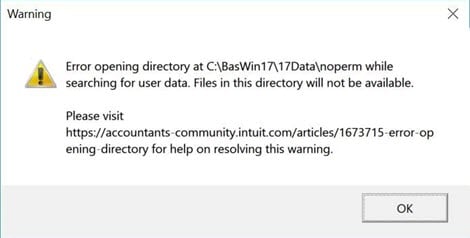 This warning generates because the current user doesn't have access to the folder mentioned in the warning. This is usually because the current year folder is set to a folder used by other users or programs.
Follow these steps to stop the warnings:
Open File Explorer.
Type the parent folder from the warning into the search bar and hit Enter.

In the above image, the parent folder is C:\BasWin17\17Data\noperm

Right-click in the window and select New then choose Folder.

This will be the new client file folder for the current year.

Move all client files and folders with client files into the new folder created in the prior step.
Open ProSeries Basic and click OK to close the warning.
From the Tools menu, select Options.
Select Directories from the left panel.
Under Current year client files, click Browse.
Locate the new folder created in step 4 and click OK.
Click OK to close the Options window.
Restart ProSeries Basic.
The warning shouldn't generate anymore after you restart the program.