The following error may trigger when e-file Center is selected under the View menu. After the error appears, the program closes.
This can happen in more than one tax module.
"TCustomClientDataSource.OrderBy required C?_ values: 2250 is invalid"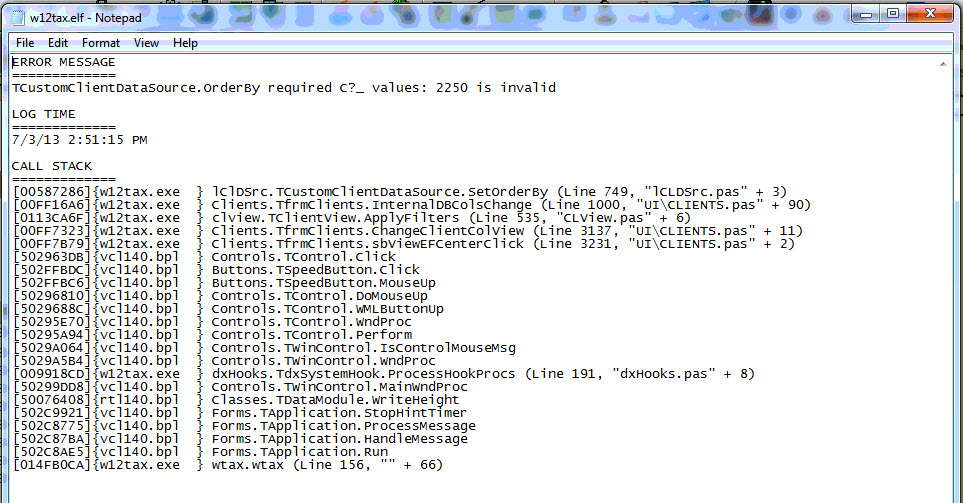 How to resolve the error
The error is caused by a line of code in the user Option file path. Editing the file will fix the issue.
Within Lacerte press the F10 key to open the Technical Support Information window.
On the System Information tab, take note of the Option path and the 3-digit Lacerte workstation number.
Close Lacerte and type the Option Path into the Windows search field.
Open the OPT*** file with the workstation number included in the file name.

If you get a window saying Windows cannot open this file, click Select the program from a list and select Notepad.

Find the heading for the affected module:

[IND] Individual, [COR] Corporate, [SCO] SCorp, [PAR] Partnership, [FID] Fiduciary, [EXM] Exempt Org, [GFT] Gift, [BFT] Benefit Plan
You can also press Ctrl+F and enter the heading.

Find the line starting with 2250= 
Change this line to read only 2250=C1_0
Click File and then Save.
Close Notepad and try Lacerte again.
If the issue persists, close Lacerte and rename the OPT*** file.  Reopen Lacerte and try opening e-file Center.