This article explains why the following error may be triggered during the installation, reinstallation, or removal of DMS on a 32-bit operating system:
"The following files did not self-register or unregister:
1. C:Program FilesIntuitDMSPrntDrvrcdintf64.dll is not a valid Win32 application."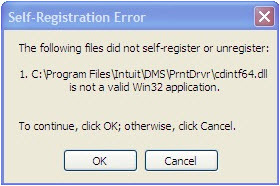 The error is triggered when the installer tries to register the 64-bit version of the print driver on a 32-bit system or the reverse, registering the 32-bit driver on a 64-bit system.
You can disregard the message by selecting OK to close the error, as it won't impact the functionality of the print driver.