When a colleague is invited to Intuit Practice Management powered by Karbon, the following message may appear: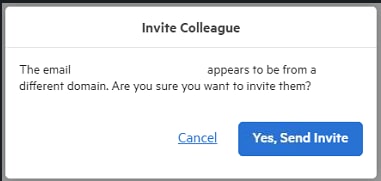 This warning appears if:
The email address may be associated with a Contact Card already: see To check the Contact Card below.
The email may be associated with another colleague that has been archived in Intuit Practice Management: see To check the Archived users below.
If the colleague is being invited from a different domain and the other two scenarios don't apply, select Yes, Send Invite to invite them to Intuit Practice Management.
To check the Contact Card:
To see if the colleague's email is associated with a contact before sending out the invite:
Cancel out of the Invite.
Select the Magnifying Glass at the top right corner of the screen.
Type the email address of the colleague in the search field and select Contacts.
Look through the list for any possible matches.

If the email address is found, edit the contact and remove the email or replace it with a different one.
To check the Archived users:
Check the Archived users to see if one exists with the same email address. If so, restore the colleague instead of trying to add them. To restore the colleague:
Cancel out of the invite.
Go to Settings>Colleagues.
Scroll down and select Show Removed Colleagues.
Select the colleague's name.
Select Restore User.
Update the name to the new colleague.