This article will help you resolve the following error when accessing the Integrations tab in Lacerte: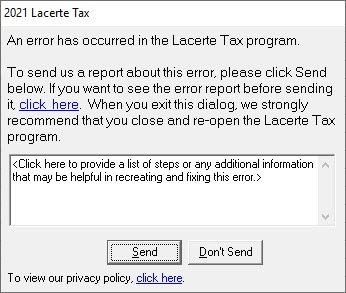 Selecting the click here link generates the error Access violation at address.
Before you start:
This article references default installation paths and uses YY to reference the tax year in 20YY format. C: will always indicate the local drive and X: will always indicate the network drive.
Why is this error generating?
This error can occur if the SYNCCLIENTSDB.YY file for Intuit Practice Management powered by Karbon was renamed to resolve syncing issues or configure data paths while there were users still in Lacerte or there was a bad install of a Lacerte update.
Troubleshooting steps
To find the SYNCCLIENTSDB.YY file:

Select the Help menu in Lacerte.
Select Troubleshoot F10.
Select the System Information tab.
Make a note of the Option path, you'll need this in the following steps.

Have all users exit Lacerte.
Browse to the Option path noted in step 1.
Open the OptionYY folder and find the SYNCCLIENTSDB.YY file.
Highlight the file and then right-click and select rename. Add OLD to the end of the file.

If you use Intuit Hosting use F2 (keyboard shortcuts work by default in the hosted environment when it's maximized) or select the Home tab in File Explorer and use the Rename button.

Once renamed try accessing the Integrations tab in Lacerte, if still unable to access this tab, refer to How to perform a force install of Lacerte for further troubleshooting steps.