Each year, the IRS adjusts the Schedule K-1 line numbers and codes depending on related tax law changes.
Lacerte provides an option to print these instructions and codes, for each passthrough return type: Partnership, S-Corporate, and Fiduciary.  This page helps the shareholders, beneficiaries and partners complete their 1040 returns.
Changes for tax year 2020
Starting in tax year 2020, the IRS no longer includes the K-1 Codes as page 2 of the Schedule K-1 for the 1065 and 1120s and instead has made it part of the K-1 instructions booklet. This has changed how to generate and print the codes in Lacerte.
If you only want to print the Schedule K-1 codes and not the full instruction booklet, it's best to print them from the IRS Instruction PDF and select only the specific pages you want to print:
Follow these steps to enable printing for Schedule K-1 instructions booklet in Lacerte, including the instructions and codes:
From the Setting menu, select Options.
Select the Items to Print tab.
Under Copy in the left navigation panel, select Addtl K1 Package.
Check the box next to Schedule K-1 Instructions.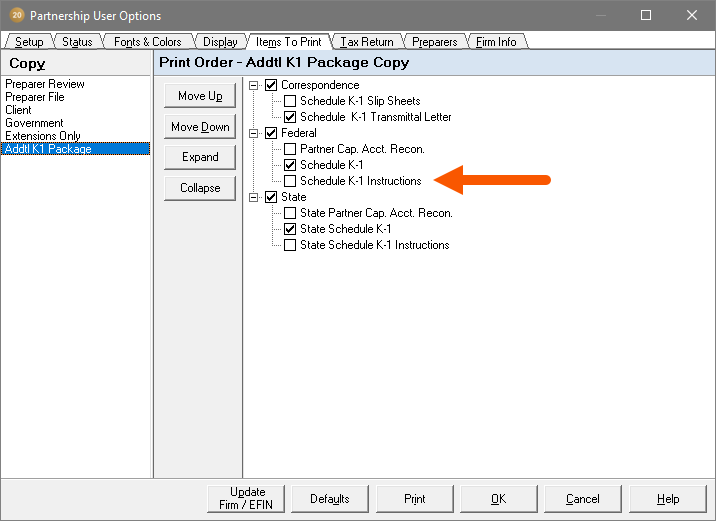 Click OK.
When you go to Print Tax Return, choose K-1 package only.

Select OK to print the Schedule K-1's and the instruction booklet.
For tax year 2019 and prior
These steps apply to the 1041 for tax year 2020 and for the 1041, 1065 and 1120s in prior years.
This must be done within the Options menu for each applicable tax module.
Follow these steps to display Schedule K-1, page 2 in Lacerte:
From the Setting menu, select Options.
Select the Items to Print tab.
In the Print Settings - Preparer Review Copy, locate the option for Schedule K-1 Page 2 for Each Subclient.
Change this setting to Yes.
Click OK to save these changes.
By default, the copy type will be Preparer Review, which will only include this optional page to appear in the Forms view within Lacerte. To include this page in additional copy types, select the additional copy types desired in the left column of the Items to Print options, and follow steps 4 and 5 for each additional copy type.