When meals and entertainment are entered as a deduction on Screen 13, Deductions in the section Meals and Entertainment > Meals in full (50% deductible), the 50% that is nondeductible on the tax return is available to specially allocate to the partners.
To specially allocate meals and entertainment
Go to Screen 29, Special Allocations.
Expand the folder Schedule M-1.

If the tax return is using M-3 instead of M-1, a special allocation will appear containing the same information.  It isn't necessary to specially allocate this amount as it is a duplicate of the amount allocated as the M-1 adjustment.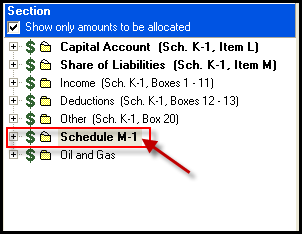 Expand the folder Nondeductible Expenses.
Select Travel and Entertainment.
Enter the allocation amounts or percentage, per partner.