"Account Issue" Error Message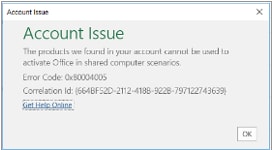 This error occurs when your Office 365 subscription will not work in a Cloud Hosting environment.
What versions of Office will work in Hosted?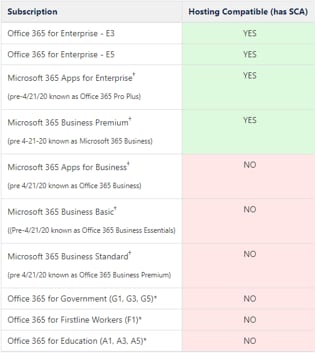 How To Determine What Version of Office You Have
Go to https://portal.office.com/ and log in to the portal.
Select the gear icon in the upper right-hand corner.
Select Update Contact Preferences then select the Subscriptions tab.
The version of Office 365 that you are subscribed to should be listed on this page.
If your version of Office 365 is not compatible with the Hosting environment, you can reach out to your Office 365 Administrator if you have one. Alternatively you can reach out to Right Networks directly to purchase the appropriate subscription.

Right Networks can be reached by phone at (866) 335-8032 or you can click here to schedule an appointment.
Activating your Office Products in Right Networks
Once you have determined that the version of Office 365 you have is compatible in the Hosting environment, complete the following steps to activate your Office products.
In your Right Networks Remote Desktop, open Microsoft Word or Excel.
You should be prompted to sign-in to your Office 365 account.

Note: Sometimes Microsoft Word or Excel will not prompt you to sign-in, if this occurs open Microsoft Outlook instead. If this issue persists, try logging out of Right Networks then logging back in before attempting again.

After you sign in once, all of your Office products should now be accessible. You will need to repeat steps 1 & 2 for each user.