This article will assist you with resolving Tax Import errors in ProSeries Professional. Select the applicable issue below for instructions.
Troubleshooting Tax Import error - "Cannot find central directory"
After submitting a PDF for Tax Import, the scanned document column shows the Ready to Import status.
When clicking the Ready to Import link, or opening the client, the following error message generates:
"Cannot find central directory."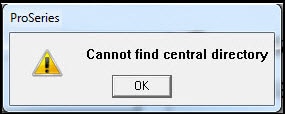 There could also be another related error message:
"Telient grid EOLE exception"
How do I resolve this error?
This error may occur when a conflict on the system, or connectivity issue, has prevented ProSeries from successfully downloading the imported data for a client that displays a status of Ready to Import.
The scanned document(s) will need to be resubmitted for this client in order to resolve this error. For more information on submitting scanned documents in Tax Import, see Importing scanned source documents with ProSeries Scan and Import.
To prevent this error from occurring in the future, make sure that the security software (anti-virus, firewall, etc.) running on all computers with ProSeries have been configured to not interfere with the ProSeries software and services. For more assistance with configuring security software for ProSeries, see the following articles:
Troubleshooting - Financial Institution Download stuck on the Processing Hour Glass icon on ProSeries HomeBase
The HomeBase in ProSeries is still showing a Processing Hour Glass icon for the Financial Institution Download.
Before you start:
This article references default installation paths and uses YY to reference the tax year in 20YY format. C: will always indicate the local drive and X: will always indicate the network drive.
Try these possible solutions first:
Turn off the computer's Security Suite for 15 minutes or until reboot and refresh HomeBase until the icon changes.
If you've been waiting a while for this information to download, resubmit it again with the Security Suite turned off.
If the above steps don't work, follow the steps below:
Open the client in ProSeries.
Go to the Federal Information Worksheet.
In the worksheet, hold down the Ctrl key and double-click the blue bar at the top.
Write down the client's GUID that appears on screen.
Browse to C:\ProWinYY\YYFido and locate the GUID from Step 2.
Inside that folder you'll find a .xml file that is 0KB. Right-click and Delete that file.
Close and reopen ProSeries.
From the Import menu, select Tax Import and choose Update Tax Import Statuses.
Press F5 to refresh HomeBase.
Check if the status has changed.
If the issue persists, make a copy of the client and send the Tax Import invite for the copy instead.