This article will assist you with converting tax data from ProConnect to ProSeries.
Before you start
Converting from ProConnect to ProSeries isn't a single data conversion. Before you use the steps in this article to convert your data to ProSeries, you'll need to convert your data from ProConnect to Lacerte. The steps below detail how to convert your data from Lacerte to ProSeries.
If you need assistance with converting your ProConnect data to Lacerte, reach out to the ProConnect support team at 1-800-200-7599.
Error when converting your data to ProSeries
The ProConnect support team created a backup of the tax files, but the tax data conversion applicable doesn't recognize the files within C:\ConversionData.
The following error generates in ProSeries:
"Missing Backup. We could not find any valid files inside C:\ConversionData folder. Please follow the backup instructions on the screen to backup your files."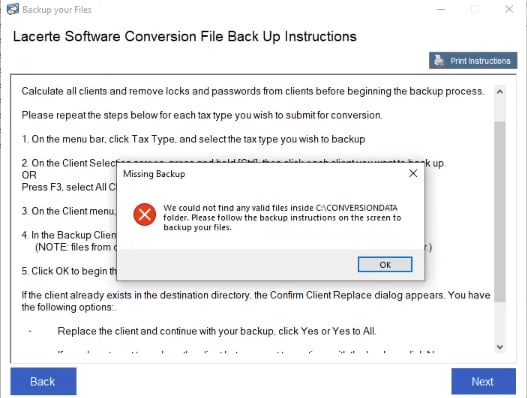 How do I resolve this error?
ProConnect creates separate Lacerte databases to convert to ProSeries based on the return type and the databases are usually in their own directory. For example, for Individual files you'll see a folder named IDATA. Corporation returns will be saved in CDATA, Partnership data in PDATA, and S Corporation data in SDATA.
Don't copy the folders direct into the root of C:\ConversionData, or else the tax data application won't recognize the data. Instead, copy the contents of a database into C:\ConversionData one at a time, and then submit the data for conversion to ProSeries.
Also, don't combine databases in the \DataConversion folder to save time, because it'll corrupt them. Upload one database at a time so that the tax data conversion application can recognize each return type for upload.
How do I make sure my backup is correct?
Open C:\ConversionData to view the files that you backed up. A valid Lacerte backup looks like a Lacerte database folder and contains the following for each tax type:
8 Database files with names starting with DATA and ending in .DBF.
8 Database files with names starting with DATA and ending in .MDX.

For example, for Individual, you'll see DATA1I18.DBF–DATA8I18.DBF and a corresponding MDX for each. For Corporate, it'll be DATA1C18–DATA8C18.
It's OK to back up all clients into the same folder, as the file names differentiate by tax type.

Several folders, including DETAIL.
Within the DETAIL folder, one file for each client backed up, with an extension of .?D8, where the "?" represents the tax type.
A valid backup must contain the entire file and folder structure. The conversion process won't work if we receive only detail files.
A valid Lacerte backup looks like the image below: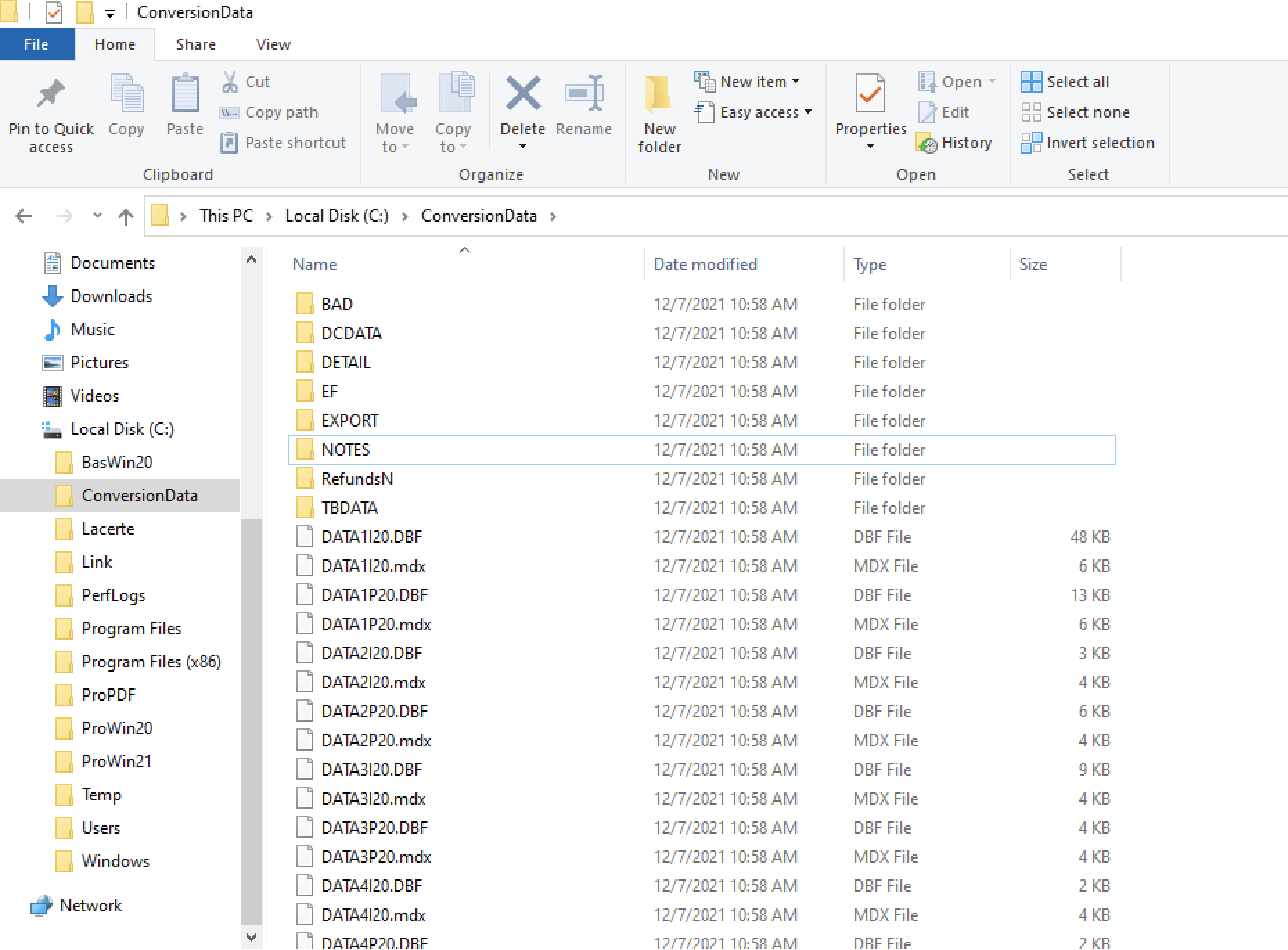 If your backup doesn't follow this format, the data conversion process will fail.
Video instructions