When saving a time entry for QuickBooks Time in Intuit Practice Management powered by Karbon, the following error generates:
"QuickBooks Time user not found. Your email address could not be found in QuickBooks Time. Please contact your QuickBooks Time administrator and get them to add you as a user in QuickBooks Time."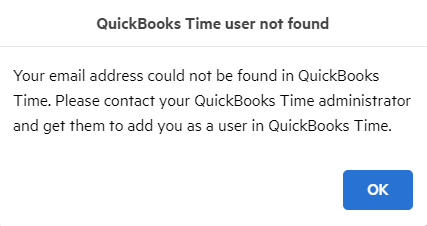 Why is this error generating?
This error will generate when:
The email address used to invite the QuickBooks Time user isn't the same as the email address used to sign in to Intuit Practice Management.
The Intuit Practice Management user isn't a user in QuickBooks Time.
In QuickBooks Time the user's profile in the upper right shows QuickBooks Payroll, but the user isn't added to the QuickBooks Payroll section of QuickBooks Online.
The emails are the same in both Intuit Practice Management and QuickBooks Time, but the Synced Items export show a different email.
Troubleshooting steps