This article will help you if you need help resetting your password or recovering your user ID while signing into My Account.
If you need help while signing into Lacerte, ProSeries, ProConnect Tax products, see Reset your password or recover your user ID when signing into your tax product.
Table of contents:
To recover your user ID or reset your password:
On the Sign in screen enter your phone number, email or user ID and select Sign In.

If you can't remember your password select the Text a code to (***) ***-**XX option.
Enter the verification code and select Continue to sign in.
Back to Table of Contents

If you're unable to complete your account recovery:
If you lost or forgot your user ID and password, and no longer have access to your phone or email on file, use the account recovery form in this section. We'll process your request within one business day. Our business hours are M-F, 8 AM to 5 PM PT.
For your security, only you can make changes to your Intuit Account. Our support team doesn't have access to update or modify your account information.
Take a high-quality photo or scan of your driver's license, state ID, passport, or notarized document.
Fill out the form below with your info, and upload your ID or document.
Within one business day, look for an email from no_response@intuit.com with the next steps. If we approve your request, you'll receive a link to reset your password.
To change your user ID or password:
If you just need to update your user ID or password, you can do it from Intuit Account Manager.
Sign in to the Intuit Account Manager.
Select the Sign in & security menu.
Select the User ID, Email Address, or Password section.
Make your changes.
When you're done, select Save.
Back to Table of Contents

Other sign-in issues
If you encounter the following screen when trying to recover your password see the alternative instructions below: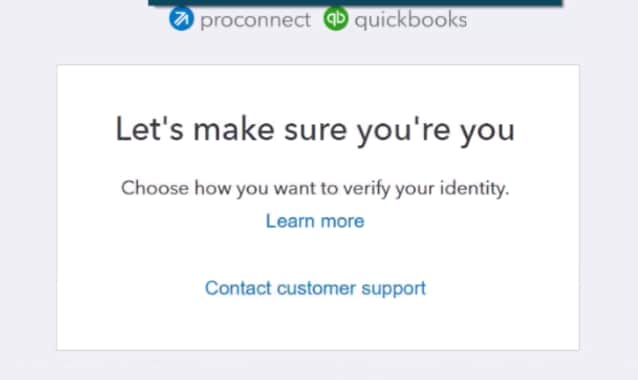 Back to Table of Contents