This article will show you how to transfer prior-year Lacerte Organizer Options and documents, such as client letters, engagement letters, questionnaires, title pages, and cover pages.
Follow these steps to transfer prior-year Organizer Options and Documents:
Go to the Clients tab.
From the Tools menu, select Organizer.
From the Tools menu within the Organizer window, select Import Last Years Options.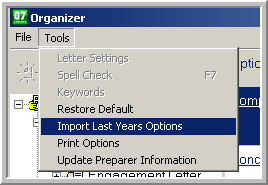 Select Yes to the Are you sure you want to import Organizer & E Organizer options and/or documents from last year? window.
Make sure the data path is correct.

Lacerte will default to the local C:\ drive for the prior year. If the data path is incorrect, click Browse and select the correct data path. The data path must point to the prior years Option folder.

Click OK.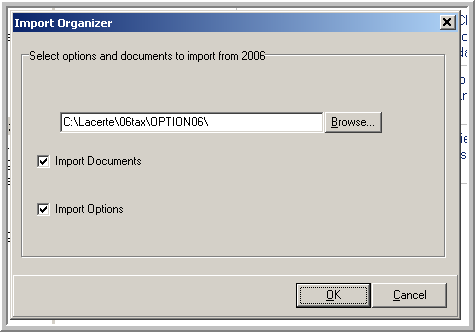 Click OK to the Information window stating:

"We recommend that you replace every year on the letter with one of the following keywords: [OrgTaxYear] - current tax year, [OrgPrevTaxYear] - previous tax year, [OrgNextTaxYear] - next tax year. The program will use this keyword to automatically update the letter with the selected tax year."

Click OK on to the Import Complete window.