This article will help you resolve the Error installing Intuit Entitlement Client. Error code 1603 when installing ProSeries DMS.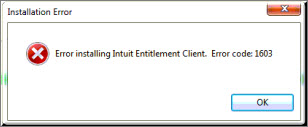 The error is often caused by a corrupt user profile on the computer. 
Close the error.
Right-clicking the DMSSETUP.exe file and choose Run as administrator.
If the install fails again, log into the computer as another user that has Administrator privileges.
Try to install DMS again.
If the install is successful its recommended to work with local IT to create a new Windows user profile.
If the install fails again, turn off Microsoft .NET Framework 3.5 and restart the computer. 
Once the computer restarts, turn .NET 3.5 back on.
Attempt the DMS install again.
Related topics: