The taxpayer is only reporting W-2 wages in Screen 10, Wages, Salaries, Tips. However, the return is generating the following two critical diagnostics:
Taxpayer name for the LLC #1 reporting entity must not be blank(Ref. #12525)
TX State Taxpayer Number entered for #1 in the Texas Franchise Tax screen must be either 9 digit FEI number or 11 digit Texas ID number. This error may delay processing of the return by the State of Texas(Ref. #2012253)
Why are these diagnostics generating?
These diagnostics generate if Texas is added to the returns state library on Screen 1, Client Information. When Texas is added, the following confirmation screen pops up stating that Texas should only be added if the taxpayer is required to file a Texas Franchise/Margin Tax Report for a single member LLC: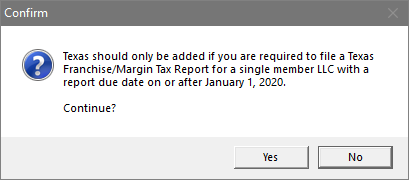 Follow these steps if the taxpayer isn't required to file the Texas Franchise Tax Report:
Go to Screen 1, Client Information.
Leave the Resident State as of 12/31/2022 as TX.
In the Returns list to the left, highlight Texas and click Delete.

The critical diagnostics should be cleared now.