Below are answers to frequently asked questions about Form 1040NR in ProSeries.
Before you start:
The 1040NR isn't available in ProSeries Basic
The 1040NR is a separate HomeBase view from the Form 1040 Individual.
To see if the 1040NR has been released for the current year, see the ProSeries Release Dates .
How do you install the 1040NR?
From the Update menu, choose Select and Download New Products.
Under Federal Products check the Form 1040 NR box.
Select Next to begin downloading and installing the 1040NR.
Accessing the 1040NR:
Once the 1040NR module has been downloaded and installed into your ProSeries product, you can now access Form 1040NR returns from the HomeBase View dropdown menu.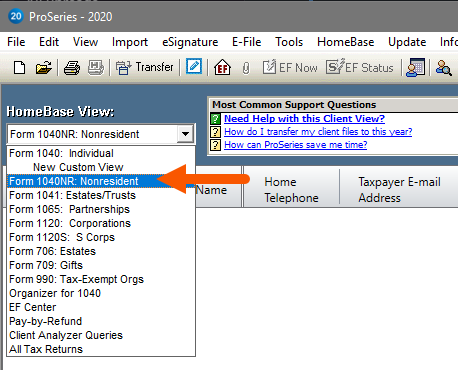 Generating state returns in the 1040NR:
Most state returns require manual entries within the state return and won't automatically flow entries from the federal return. Additionally, certain amounts won't calculate even when the necessary entries are present. Some fields will require using an override to make an entry. Most states prepared from the 1040NR will need to be paper filed with the state taxing agency.
ProSeries will calculate and flow information for the following states:
Arizona
California
Hawaii
Minnesota
New York
Vermont
Amending a 1040NR return:
Per IRS instructions, Form 1040X is used to amend Form 1040NR. While the IRS supports e-filing for Form 1040X, the Form 1040X isn't supported in the ProSeries Form 1040NR software.To amend the 1040NR, we recommend one of the methods below:
Create a Form 1040 return for the client to manually prepare the Form 1040X using ProSeries. If preparing Form 1040 returns on a Pay-Per-Return basis, this will require authorization of the return before printing (e-filing Form 1040X isn't currently supported by ProSeries when the return is a 1040NR).
Download the Form 1040X from the IRS website and manually prepare as needed.