When trying to create an electronic file in EasyACCT or Information Return System, the following Run-time error (RTE) generates:
"Run-time error '5': Invalid procedure call or argument."
How do I resolve this error?
This error may be caused by an invalid email address in:
The EasyACCT Company Information screen, or
The Information Return System Company Information file at the top of the Form Selection screen.
Electronic filing specifications require email addresses to be entered accurately. To resolve this error, make sure the email address you entered is correct.
EasyACCT Company Information screen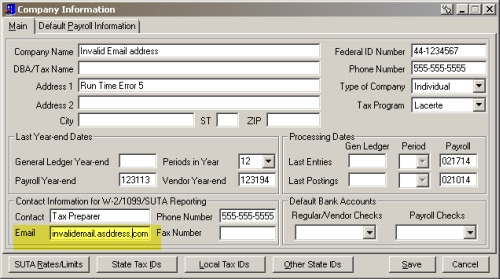 Information Return System Company Information file