Accessing your inbox
You can open your inbox the same ways you used to view alerts:
Launch it from the yellow critical alert bar toward the top of your screen.
Launch it from the Lacerte Alerts button on your icon tool bar.
From the Lacerte dropdown menu, go to Help ⮕ View Alerts.
Your inbox will open in a new window in the center of your screen. You can move it elsewhere and resize it as you wish and Lacerte will remember to open it the same way the next time you access your inbox.
Once open, scroll to browse through your notifications. They display in the order they are received with the most recent notification at the top of the list. At the top of each notification, you can see when it was sent.
Reading notifications
Your notifications are visually categorized as critical or informational, and unread or read.
Critical notifications are marked with an exclamation mark in an orange circle.


Informational notifications are marked with a lowercase letter i in a blue circle.
Unread notifications will have their titles displayed in bold font, while notifications you've read will not.
Press on a notification with your cursor to open it. Visit the included link to mark the notification as read. Close the notification by using the x in the upper-right corner.
New features
Use the ⋮ icon at the bottom right corner of a notification to show additional options: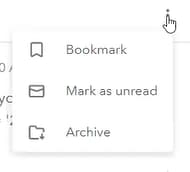 Bookmark a notification you want to read later,
Mark it as unread,
or Archive it if you've read it, but no longer want to see it in the default view.
At the top of your inbox, you can also:
Select all or multiple notifications and perform one of the actions mentioned above to them.


Filter notifications to see only those that are critical, informational, unread, or archived.