ProSeries client organizer
Available for Intuit ProSeries Tax professional only
Included in PowerTax Library, PowerTax Lite, and ProSeries Choice
Collect the client data you need faster and easier with this client tax organizer that helps you get the information you'll need to prepare virtually any client return. And, reduce time-consuming data entry and risk of errors with its data transfer capabilities.
How to create a Client Organizer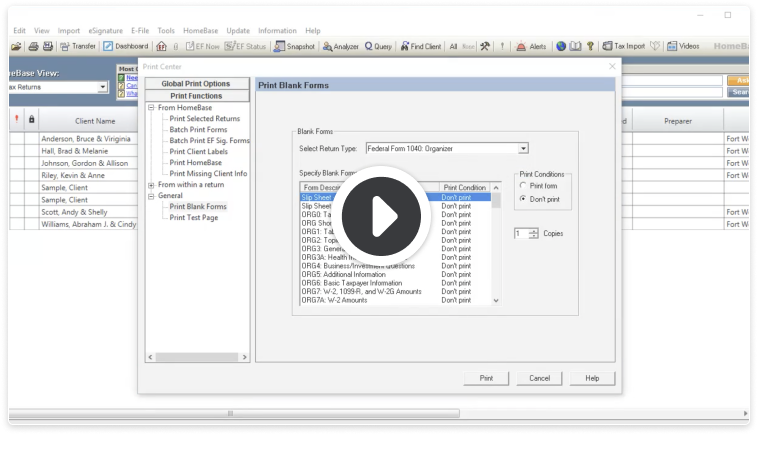 ProSeries Client Organizer includes:
Automatic transfer of prior tax year data to current year returns
Standard and custom organizers
Carry forward prior-year descriptions and amounts
Automatic printing of preexisting organizer forms
Carry forward depreciable assets and updates
Blank organizers for new clients
Control over which forms to print as clients' and preparers' copies
Automatic engagement letter creation
Short versions for clients with simpler returns, so they're likely to complete them and you'll save on postage
Detailed return data collection from:

W-2 income
Retirement income
Depreciable property
Household employees
Dependent care expenditures
Retirement plan contributions
Capital gains
Schedule C business income and expenses
Employee business expenses, including employee home office expense
Direct deposit of refunds
Electronic filing options
Sale of personal residence
Installment sales
Schedule E rental income and expenses, including vacation home information
Schedule F farm income and expenses
Form 4835 farm rental income and expenses
Car and truck expenses
Itemized deductions, such as property taxes and contributions
Stay organized and reduce expenses
Common questions for Client Organizer
The four-page short organizer is a condensed version of Client Organizer. It's designed to include the most common taxpayer information and can be used for clients with less complicated returns. Your clients can fill out pertinent information quickly and easily, and attach the supporting documents. It may also be less costly to mail. For clients with more complicated returns, you can provide the long Client Organizer, or you can provide the Short Organizer and include relevant pages from the long Client Organizer based on the clients' needs, such as ORG19, Business Income, and Expenses. You can use Control Which Forms Print to modify which forms you want to print. You cannot enter data directly into the Short Organizer. All data fields in the Short Organizer are duplicated in other Client Organizer forms.
Additional professional tax software integrations
Extend the functionality of your professional tax preparation software with these time-saving tools.

Intuit Tax Advisor
Available for:
The only integrated tax advisory tool where you can access a library of tax strategies to build custom tax plans in minutes, not hours.

Hosting
Available for:
Work-from-anywhere capabilities mirror your desktop setup for a seamless integrated workflow. Plus, attract top talent with remote access.

eSignature
Available for:
PROCONNECT
LACERTE
PROSERIES
Digital signing solution where you can manage signatures right within your tax software, and clients can sign whenever and wherever they want.

Protection Plus
Available for:
PROCONNECT
LACERTE
PROSERIES
Peace-of-mind notice and audit assistance from a team of expert EA and CPA case resolution specialists, and identity theft restoration services.
Pay-by-Refund
Available for:
PROCONNECT
LACERTE
PROSERIES
A convenient refund transfer payment option so your clients don't pay upfront costs, and you get paid faster for your tax services.
POWERED BY QUICKBOOKS

Professional tax paper supplies
Available for:
Instill confidence in your firm's professional capabilities with premium tax return folders and envelopes, designed to match slip sheets printed from Lacerte and ProSeries.

Quick employer forms
Available for:
Quickly generate 1099 and W-2 forms directly from ProSeries or Lacerte.

Data import
Available for:
Quickly and reliably import data into your return with just a few clicks.

Link client portal
Available for:
PROCONNECT
LACERTE
PROSERIES
Easily request client information and send client data through a secure online portal.

Ignition
Available for:
Streamline your proposals and automate the sales process from first contact to money in the bank.

Tax planner and analyzer
Available for:
Provide compliance services by estimating taxable income and using tax liability to avoid underpayment penalties and surprises. Choose from 4 tax plan strategies to enhance your offerings.
PROSERIES PRO ONLY

Client organizer
Available for:
Get the information you need to prepare virtually any client return quickly with data transfer capabilities and reduce risk of errors.
PROSERIES PRO ONLY

Fixed asset manager
Available for:
Depreciation software that helps you easily track assets and calculate your clients' depreciation automatically.
PROSERIES PRO ONLY

Network sharing
Available for:
Enable everyone in your practice to share and synchronize client files from one common location.

QuickCollect
Available for:
Give your clients the option to pay your tax prep fees from their refund.