When installing Intuit ProConnect ProSeries Professional Edition, Intuit ProConnect ProSeries Basic Edition, Intuit ProConnect ProSeries Document Management System (DMS), or some Intuit ProConnect Lacerte products, the error message "Error installing Intuit Entitlement Client. Error Code 1603." is displayed and the product will not license after the installation completes.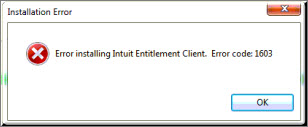 This error occurs when the Intuit Entitlement Client, the components used by many Intuit products to facilitate product licensing, are unable to install. In most cases the Entitlement Client is not able to install due to a required missing or damaged Microsoft .NET Framework component. Below are a many options to aid in troubleshooting and resolving the issue has prevented the Intuit Entitlement Client Installation from completing successfully.
Before you begin: It is strongly recommended you contact a local It Professional before using any of the information provided here. The information in this section is intended to help It Professionals troubleshoot and resolve the Microsoft Windows Error 1603 that prevents msi installers from completing their installation process. Intuit Technical support cannot assist with repairing these Microsoft components.
Related Topics: