Description
Your finances are serious business. Passwords aren't as secure as they used to be and if someone gets your password, they can access your account and make unauthorized changes. This is why we enhanced our security and added multi-factor authentication. We just want to make sure it's really you and keep the bad guys out.
This extra layer of security means when you log in, you may be asked to enter a one-time confirmation code, which can be sent to your email or mobile device.
When signing into your Intuit Account, there will be a prompt to verify your information via Multi-factor Authentication (MFA) code to help keep your account safe and secure. The MFA code is a one-time use unique code that will be sent to you based on the option you select when logging in to your Intuit Account.
To verify your account credentials:
Sign in to your Intuit Account. Enter your Email or User ID (1) and your Password (2). Optionally, click the Remember Me (3) checkbox to store your Email or User ID for future visits and then click the Sign In (4) button to login.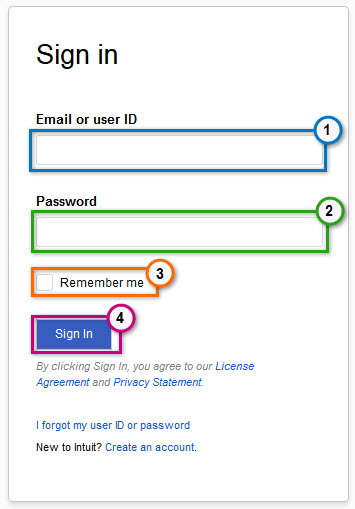 Select how to receive your MFA code. Receive an MFA code in a text (A) Message, receive an MFA code in an email (B), or choose to confirm your account using a different way (C), this option typically takes longer to complete. Click the Continue button once you have made your selection.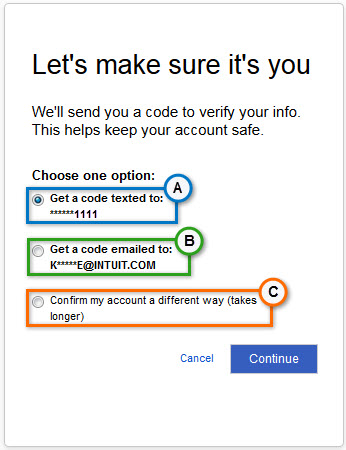 Note: Available options to receive your MFA code may appear different for your account, select the option that works best for you. Additionally, You should not be asked for the code on every repeat visit from the same computer. However, periodically you may be asked again to enter a new MFA code when signing into help ensure the safety of your account.
Check your Phone or Email for your randomly generated, one-time use 6-digit MFA Code (1)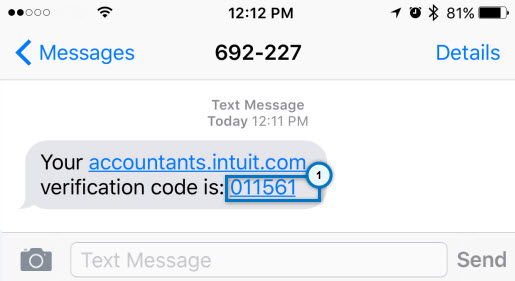 Enter the 6-digit MFA code (1) that you received and click the Continue button (3) to proceed. If you did not receive a MFA code, click the Didn't receive a code (2) link to select another method.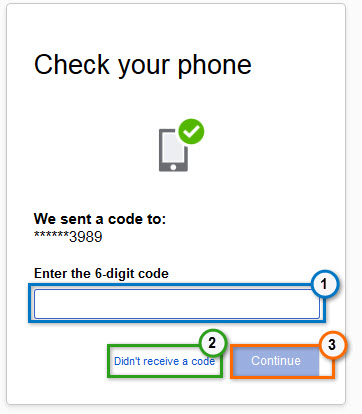 Frequently Asked Questions (FAQ):