Problem Description
How do I add additional tax types/modules or states to an existing Lacerte installation?
Why are some Tax Modules grayed out?
Why can't I go to a different Tax Module?
Solution Description
You will need to install the additional tax type module via Web Setup. NOTE: For Tax Years 2004 and prior, the Web Setup option is not available. You will need to download the Lacerte CD for those years or use the final CD.
Solution #1: Installation using The Lacerte Web Setup function
Close the Lacerte program.
In the Windows Search field located in the lower left hand corner, type 20XX Lacerte Web Setup (XX = tax year) Example: 2017 Lacerte Web Setup
For Windows 7 computers:
Click the Windows Start menu, most commonly located in the lower left hand corner of the screen.
Select All Programs/Apps.
Scroll down to the Lacerte folder.
Select Lacerte Tax.
Click 20XX Lacerte Web Setup (XX = tax year)
The Install Folder and Shared File Path will default to the paths the program is currently using.
Click Next
Select the state(s) you need to install.
Productivity tip: Select only the modules and states that you expect to use. This will save you time when downloading updates and you can always add later if needed.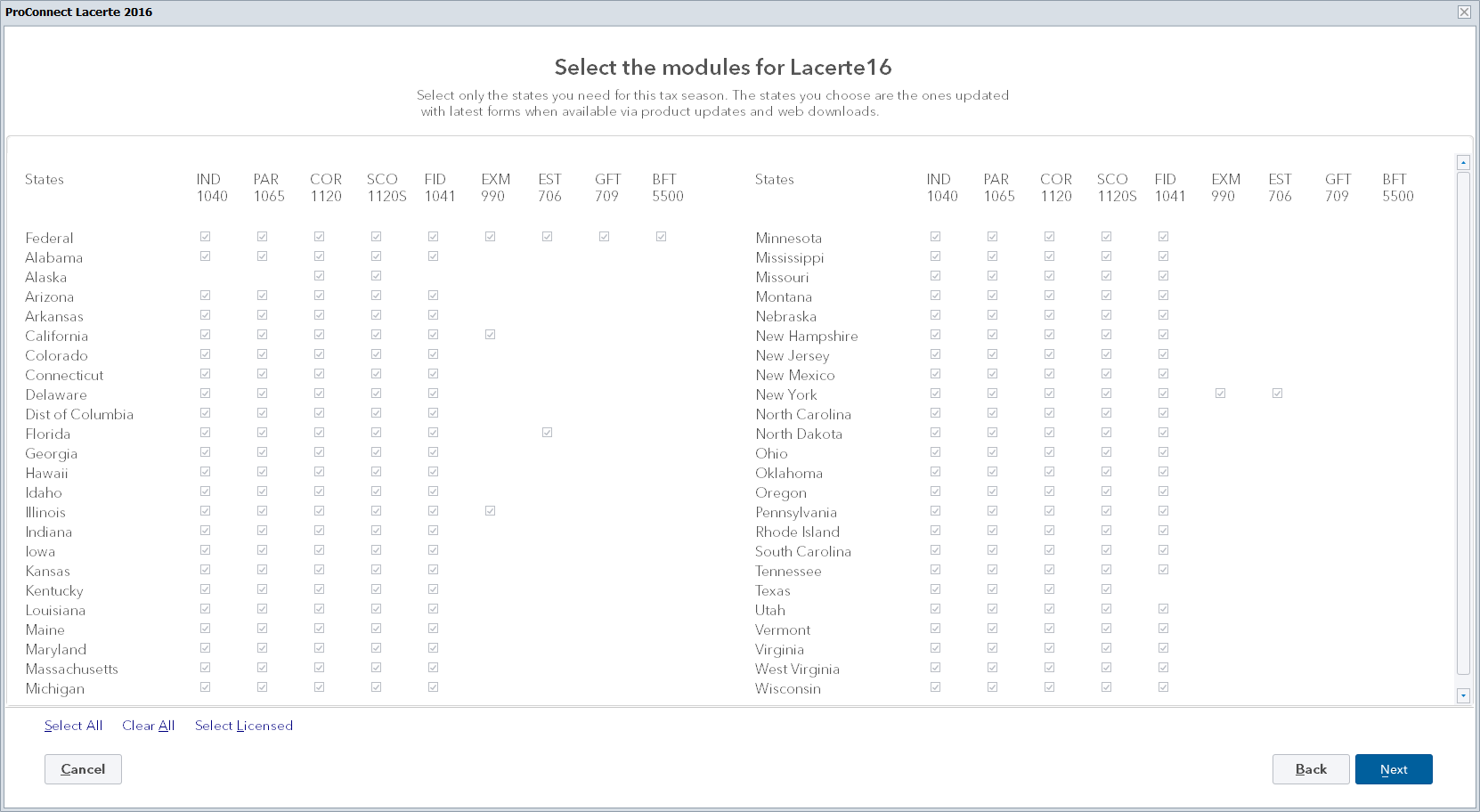 Default Check Marks: The Lacerte Installer will automatically check states for which you have an unlimited license
Click Next
Click Install to begin the installation.
When the installation is complete, start the program from the desktop icon.
To confirm the state is installed, add the state to a client's return in Screen 1, Client Information. Then click on the Forms tab and the select the state in the State box on the left. The forms for the state should now appear on the screen. You will not be able to see any state forms if the state is not installed.
Solution #2: Installation using the Lacerte Web Setup function on Windows 8, 8.1 and 10
Accessing Lacerte Web Setup via the Start menu will not be possible in some versions of Windows 8 due to changes in how the Start menu/screen works. You will have to search for the Lacerte Web Setup executable file to be able to run the setup and install the modules/states you desire:
On your keyboard, press the Windows key and R to open the Run prompt.
Type (or copy and paste) "C:Program Files (x86)Common FilesLacerte Sharedwebsetup??.exe" (where ?? is the two-digit tax year, like websetup17.exe); note the use of quotation marks around the address, as Windows will not be able to find the file if those are excluded.
Click OK and proceed with the installation as normal. (Solution #1, Step 6)