With ProSeries Professional 2019, you can use a signature pad to collect and store preparer signatures, and capture taxpayer signatures in real-time.
The type of signature pads supported are:
Scriptel ProScript models: ST1550, ST1570, ST1475
Topaz 460 models: T-LBK460-HSB-R, T-L460- HSB-R, T-S460-HSB-R
While these are the only two types of signature pads we support, that does not mean that others will not work. The scope of our support, however, is limited to those mentioned above.
Signature pad use is currently not supported in virtual environments. This is why we support the HSB models of Topaz 460 signature pads, which are designed specifically for local environment use.
Go to Tools.
Scroll down to Options.
Select Firm/Preparer Info from the left-hand navigation.
Click Manage Signatures.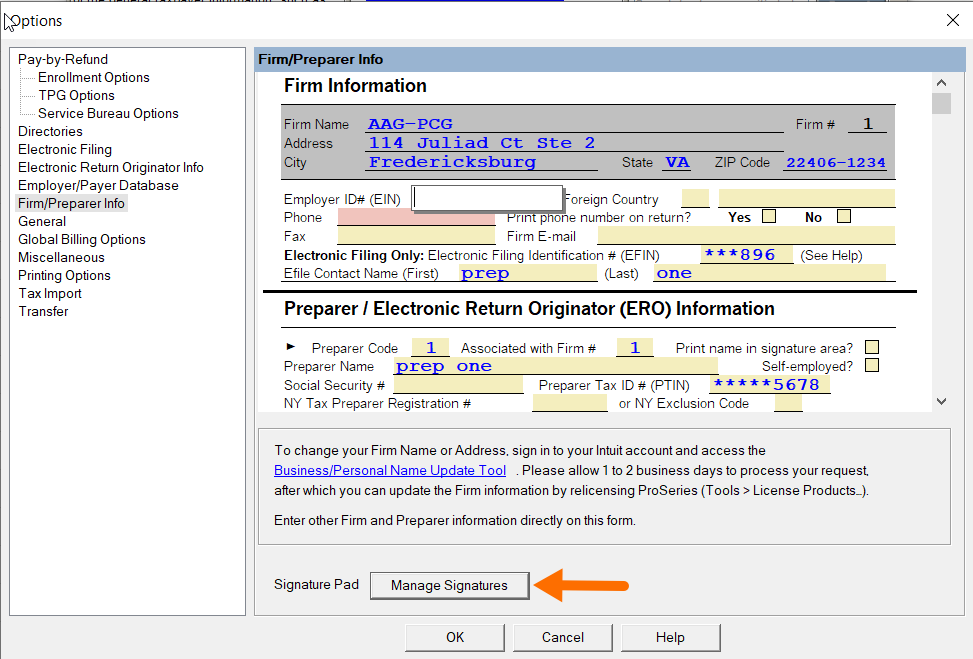 Click Collect next to signature field you want to populate.

If you are not satisfied with how the signature shows, click Clear and sign once more.
If you are satisfied with the signature as it shows, click Accept. This will temporarily store the signature until you are ready to Save.
Click Save to store all signatures marked as accepted.
These signatures are then stored at X:ProWin19common in a standalone installation or X:ProSeriesProNet19common in a network installation, where X is the drive letter:
SignInfo.dat - holds the preparer signatures.
SignInfoLock.dat - locks SignInfo.dat file so that it cannot be opened while in use.
Go to File.
Scroll down and select Print.
Select Print EF Signature Forms from the left-hand navigation.
Click the Signature Pad button.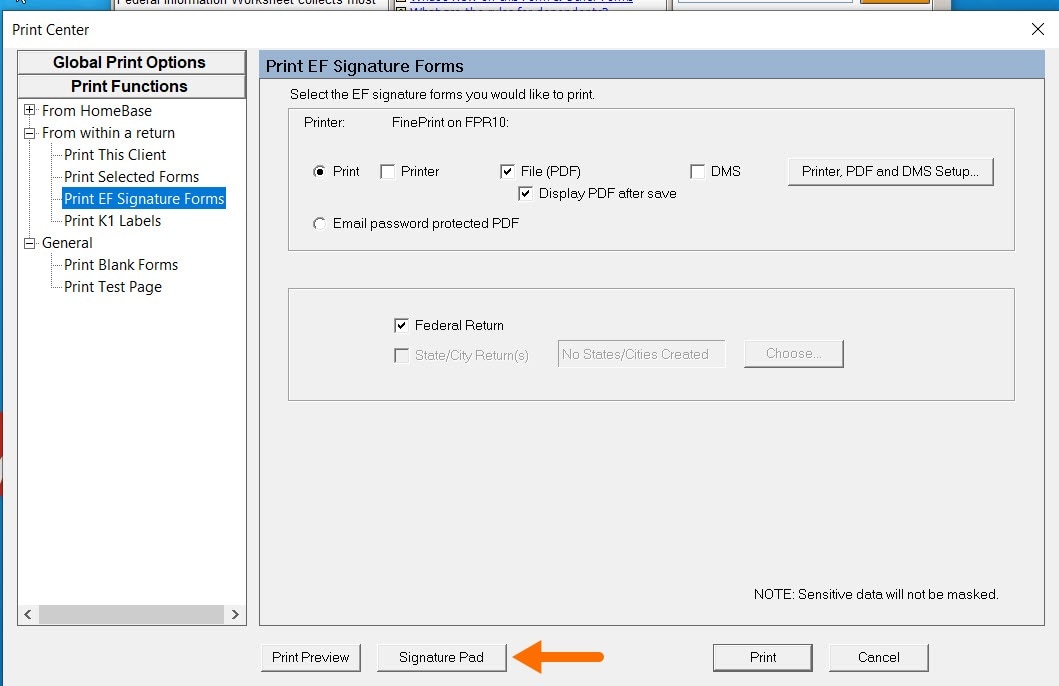 You will want to make the screen visible to the customer during signing.
Click on Collect Signatures at the top of the screen.
Once the taxpayer has signed, click Accept.
On the forms screen click on Apply Taxpayer Signature to apply their signature.
Click Apply ERO Signature to apply the preparer signature previously stored.
Repeat steps 5-7 for each form that needs to be signed.
The completion of each form is indicated by a green checkmark on the left-hand side of the screen.
Once all forms are completed, click the Save button.
Assign the PDF a unique name in the window that pops up.
The PDF will then be saved to X:ProPDF2019Signed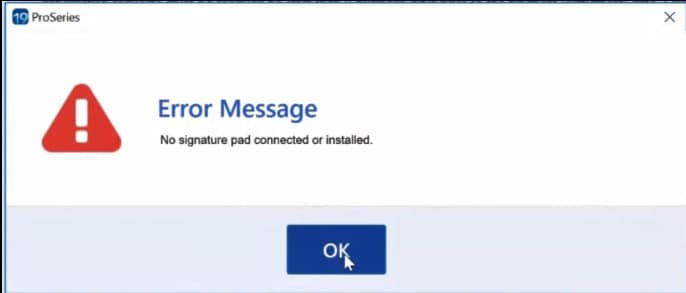 If you are receiving this error message, it means that you currently do not have the drivers for your signature pad installed, or they are out-of-date. To resolve this error:
Verify that your signature pad is supported for use with ProSeries.
If you are using a Topaz signature pad, install device drivers: