Exporting Depreciation Data to a File such as an Excel file
The Lacerte Tax program offers the ability to export client(s) depreciation data to a file. Follow the steps below to export the depreciation data to a file:
Note: It is recommended to create and save the Excel spreadsheet prior to starting the export. Makes it easier to find the file when browsing to save it.
Highlight the client file containing the depreciation data to be exported.
Click the Client menu and select Export, then select Export Depreciation to File.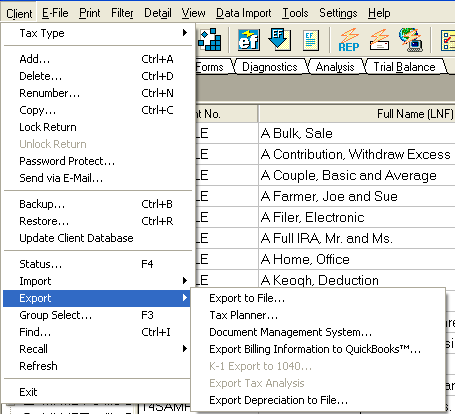 Choose the directory location to save the exported depreciation data and then click OK.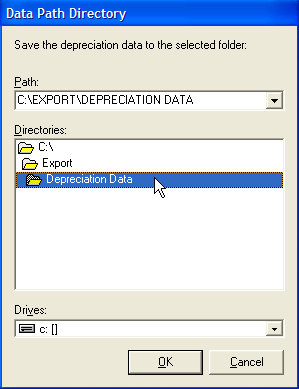 Note: The default location to save the exported depreciation data is My Documents.
The program calculates the return and exports the depreciation data into a comma separated file ( .CSV) for the selected clients. If a client's return does not calculate, the program will not export that client's depreciation data.
If exporting multiple files, review the Depreciation Data Report to see a list which files were successfully exported and the file names for those returns.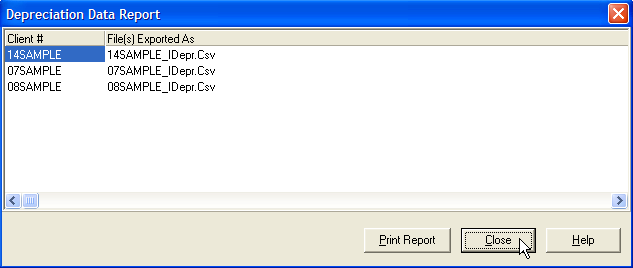 Click the Print Report button for a paper copy of the exported files or click Close when finished reviewing the report.
The exported depreciation data (.CSV file) can now be accessed using another application, such as Microsoft Excel.
Open Microsoft Excel
From the File drop down menu, choose open
Navigate to the .csv file
Make sure the file type in the lower half of the window is set to csv, or you may not see it
Once it's opened in Excel it can be saved as an Excel file
Note: Once the file has been exported to Excel, the assets can be imported into another client file using Fixed Asset Manager. For some FAQs regarding the use of Fixed Asset Manager, please see Fixed Asset Import Common Questions.