If your Lacerte program is running slow, first make sure your computer meets the Lacerte system requirements. If your system does not meet our system requirements, you may incur performance issues.
If you are using Lacerte on a network,
Evaluate your network performance
An easy way to test network performance is to copy the Setup20 folder from the server to the Desktop on a workstation. You don't need to wait for the whole folder to copy; you just want to see the speed at which it is copied over.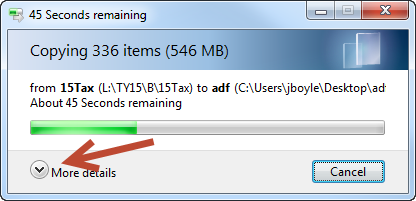 Click the More details down arrow while it is copying to see the speed.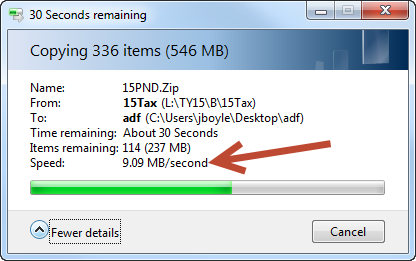 You want to check the last item listed: Speed. When performing this test, speed should fall between 30-60MB/second, or more. If it is significantly less than 30 MB/second then your network performance is likely affecting Lacerte performance. A common solution for this is to move from 100MB switches to 1GB switches. Please consult your IT for this.
Once you verify the speed click Cancel and you can remove the Setup20 folder off the desktop.
If Lacerte is slow on some workstations and gets progressively slower throughout the day, consult this article.
If your system meets the system recommendations and your network speed, if applicable, is sufficient, perform the steps in the sections below and check the program performance after each set of steps.