When trying to print or e-file any tax return ProSeries gives the following error:
"java.lang.IllegalStateException: Expected Fonts Directory to contain 'OCR-A__pfb' file; but it does not. Check that fonts directory specified correctly."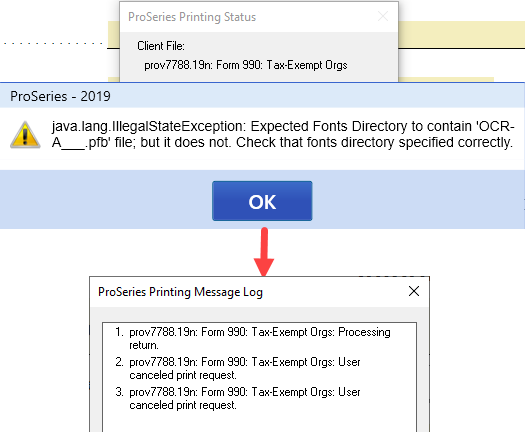 Path to PDF Fonts directory is missing
To correct the unexpected behavior follow the steps below.
Close ProSeries.
Open File Explorer.
Navigate to C:\ProWin19\32bit.
Open ProWin19.ini.
Locate the parameter reference "PDFFontsDirectory=".

A proper reference will read as follows:

PDFFontsDirectory=C:\ProWin19\32bit\PDFFonts

Add the missing reference to \PDFFonts at the end of the parameter

(see comparison example below).

Go to the File menu and click on Save, then close the "INI" file.
Restart ProSeries.
You should now be able to print and e-file tax returns.