When you are converting your data to ProSeries or Lacerte you may sometimes receive an error message. Below you will find some of the most common errors and how to fix them:
When downloading the converted data you receive: Data Conversion Download Failed: An unexpected problem was encountered while downloading your files. Please verify your internet connection is working and try again.
This error can occur when the internet connection is interrupted while attempting to communicate with the server. To fix this error:
Verify your internet connection is online and stable.

I

f you are on wireless internet try plugging in your computer to the internet directly for a more stable connection.

If you are using a network version of the program, try from another computer.

Check that your firewall or antivirus software is not blocking the data conversion app. There may be logs indicating something was blocked in your software.

Your IT person may need to verify your computer or network settings, or that something upstream is not interfering such as a hardware firewall, or router setting.
If you retry and are not able to successfully download, contact technical support for further troubleshooting.
When uploading clients for conversion it fails with Error Code 1000. The Current Status will state: Files could not be uploaded.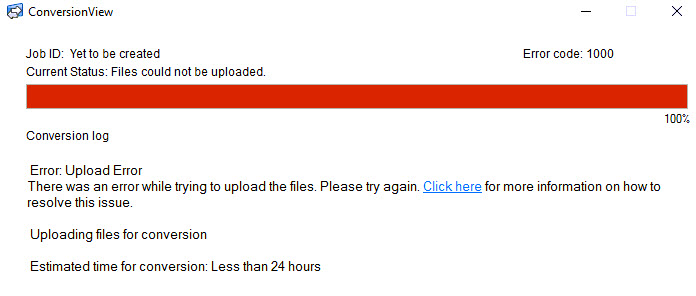 There are four common causes of this error:
Your computer may have lost connection to the internet.

If you are using wireless internet try plugging your internet into the computer.

Your computer may have entered Sleep Mode.

Adjust power saving settings as necessary by disabling sleep mode until the upload is complete.

Your hard drive may have stopped.
If you are uploading a very large number of clients periodically move the mouse to ensure the computer does not time-out.
When you have tried the above submit your tax data for conversion.
The error can occur when the data conversion wizard is unable to create the folder to download converted returns. This is most commonly caused by insufficient rights to create new folders on the computer.
You or your computer technician may be able to bypass this error by manually creating the needed folder.
ProSeries: C:\ProWin18\CompConversion
Lacerte: C:\CONV
Once you manually create the folder submit your Data Conversion request again. If the issue continues you would want to contact your local computer technician to review the permissions on your computer.
Some of the submitted files failed with the error Error 2002 - bad backup.
To resolve this error review the instructions here for backing up your data for conversion and review the section for: How do I verify my backup is correct? Once you have a valid backup re-submit your files for Data Conversion.
This is an unknown error or an error with no specific cause. Below are some possible solutions to try. When each item is completed resubmit the tax data for conversion.
Restart both the modem and router
Ensure your anti-virus and firewall are not blocking the dataconversion.exe app.
Verify a valid backup was created per the backup instructions here.