How do I amend a state return?
Solution
Before you begin: It is highly recommended you create a client copy so that you have the originally filed return as one client, and the amended as the other.
Follow these steps to make a copy of your client:
Highlight the client from the Client tab
Click on Client and then click Copy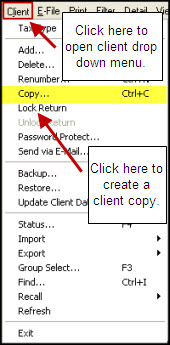 A window will prompt you to enter a client number. It is recommended you enter the same client number with an X to indicate which client includes the amended information. For example, (original client number 0001, enter the new client number as 0001X).