Before you start:
There is not an option to preview the attached PDF file nor to print the attached PDF with the return.
PDF files are limited in size. The entire file, including PDF attachments, submitted via e-file is limited to 32 MB. A single attachment is limited to 1.5MB.
PDF files cannot be attached to returns after they are transmitted for e-file.
To attach a PDF to the Federal e-file return:
Go to Screen 4, Electronic Filing.
Click on the PDF Attachment button.
Click on the Attach PDF button.
Select Browse Files
.
Choose the PDF you need to attach.
Click on Open.
Click on OK.
Select the form/type to link the attachment to from the Link to form (defaults to main form) drop-down menu.
To add multiple attachments:
Click on Add under e-file Attachment section from the left navigation panel.
Repeat steps 4 through 10 to attach another PDF.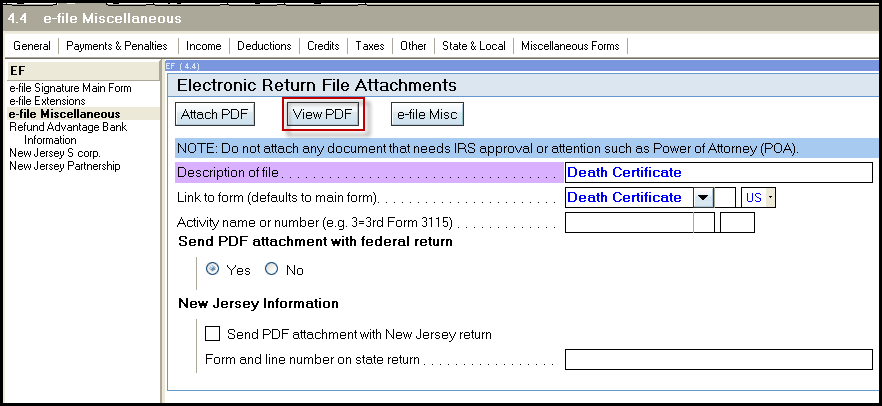 Additional Information:
Attaching PDFs to State returns is the same process as attaching PDFs to the Federal Return.

If the state allows PDF attachments there will be a separate section for the state. Check the box, Send PDF attachment with [STATE] return, and select the appropriate option or enter the Form and line number on state return (this input varies from state to state).

Diagnostics indicating an attachment is required may not clear once the attachment has been included. To verify the attachment has been included, select the "View PDF" button.

If a specific option is available to identify the attachment, the diagnostic should clear, otherwise the program has no way to confirm the required attachment has been included.

Once a PDF is attached, it will remain with the return until it is deleted.
Other Articles to Try: